Kiinan kryptovaluuttojen vastaiset toimet, TikTokin pienoissovellukset ja Facebookin Clubhouse-kilpailija
Lisäksi Teslan tekoälyjohtajan, Andrej Karpathyn, CVPR-esitys
Huomenta! ☕
Transistori on arkipäivisin ilmestyvä, teknologiauutisiin ja internet-kulttuuriin keskittyvä, uutiskirje. Voit ryhtyä Transistorin tilaajaksi kirjoittamalla sähköpostiosoitteesi alle ja painamalla osoitekentän vieressä olevaa Subscribe-nappia!
Uutiset 🗞️
Bitcoin ja kryptovaluutat Kiinasta tulevan paineen alla
Käytännössä kaikki suurimmat kryptovaluutat halpenivat eilen, kun markkinat sulattelivat tietoja Kiinan hallituksen kryptovaluuttojen vastaisista toimista. Maan keskuspankki kokosi maanantaina Kiinan isoimmat finanssialan toimijat yhteen, ja käski ne toteuttamaan keskuspankin hiljattain julkistamia kryptovaluuttojen vastaisia käytäntöjä ja sääntelyjä. Bitcoin halpeni 9 %, Ethereum 14 % ja Doge 27 %. Wall Street Journalilta (WSJ):
The price of bitcoin and other cryptocurrencies slid Monday after China's central bank ordered the country's largest banks and payment processors to take a more active role in curbing cryptocurrency trading and related activities.

The People's Bank of China on Monday said it summoned representatives of multiple institutions—including state-owned commercial banks and Ant Group Co.'s Alipay—and told them to "strictly implement" recent notices and guidelines from authorities on curbing risks tied to bitcoin and cryptocurrency fundraising activities. It was the latest sign that Beijing is intensifying its crackdown on unregulated virtual currencies.

Bitcoin slipped to $32,622, down 9% from Friday, according to CoinDesk. That marked bitcoin's lowest price at 5 p.m. ET since late January.

Ethereum, the second-biggest cryptocurrency by market value according to trading platform Kraken, lost 14% to $1,941. Dogecoin, which started as a joke in 2013 before setting the internet abuzz and shooting up in price this year, slid 27% to about 21 cents in its eighth consecutive daily decline.
Keskuspankki on mm. ohjeistanut, että yritysten asiakkaiden rahansiirto pitää estää kryptovaluuttojen kauppapaikoille, kuten Binanceen tai Coinbaseen. Bitcoinin hinta on nyt laskenut 50 % sen huhtikuisesta, n. 65000 dollarin, huipustaan.
---
TikTokin päälle voi nyt rakentaa sovelluksia
Sosiaalisen media TikTok on lanseerannut sovelluksensa päälle rakennettavat pienoissovellukset, joita kutsutaan TikTok Jumpeiksi. Jumpit ovat olleet betatestauksessa kevään ajan, ja TikTok on nyt valmis laajentamaan pääsyä niihin. Yhtiön blogista:
Today we're excited to introduce TikTok Jump, a new way for creators to share engaging and informative content on TikTok. Built by third-party providers, Jumps are mini-programs and services that creators can link to within their videos. Users around the world can click these links to explore recipes, take quizzes, discover useful learning tools and much more, creating more dynamic and practical experiences for our community.

TikTok has become a destination both to be entertained and to learn; through TikTok Jump, we're creating that "last mile" of our community's discovery journey and helping to spark action and deeper interaction both on and off the platform. An expanded group of creators will now be able to use Jumps in their videos, and we'll continue to gradually roll out availability more broadly.

…

As we take the next steps in the evolution of TikTok Jump, we're now opening the program to new providers who can offer exciting experiences for our community. With HTML5 compatibility and minimal technical integration, Jumps are easy for providers to build and deploy. The use cases for TikTok Jumps are almost limitless, and we look forward to working with selected providers to build innovative Jumps that help fuel the instructive and entertaining content our community craves.
Jumpin betatestaajiin ovat kuuluneet mm. reseptisovellus Whisk ja Wikipedia. TikTokin blogikirjoituksessa mainitaan, että nyt Jumppeja alkaa tekemään myös mm. uutissivusto Buzzfeed.
Snapchatilla on hyvin samanlainen "add-on" toiminnallisuus nimeltään Snap Minis, ja jo vuosia on ollut tiedossa, että esimerkiksi Facebook on halunnut rakentaa itsestään ns. megasovelluksen, jollainen WeChat on Kiinassa.
Casey Newton kirjoitti myös erinomaisessa Platformer-uutiskirjeessään, miten sosiaaliset mediat haluavat käyttää Jumpin ja Minisin kaltaisia toimintoja lisäämään alustoillaan tapahtuvaa (verkko)kaupankäyntiä, ja saada näin osansa myynnistä.
---
Facebook lanseerasi äänipalvelunsa Yhdysvalloissa
Sosiaalisen median yhtiö Facebook ilmoitti eilen julkaisseensa tuotteeseensa äänipalvelun, nimeltä Live Audio Rooms. Käytännössä palvelu kilpailee Clubhousen, Twitter Spacesin ja Spotifyn Greenroomin kanssa. Yrityksen blogikirjoituksesta:
Live Audio Rooms on Facebook enable you to discover, listen in on and join live conversations with public figures, experts and others about topics you're interested in. Public figures can invite friends, followers, verified public figures, or any listeners in the room to be a speaker. The host can invite speakers in advance or during the conversation. There can be up to 50 speakers, and there's no limit to the number of listeners.

In Groups, admins can control whether moderators, group members or other admins can create a Live Audio Room. In public Groups, both members and visitors can listen to the Live Audio Room, but in private Groups, only members can listen.

Live Audio Room hosts can also select a nonprofit or fundraiser to support during their conversation, and listeners and speakers can directly donate.

People on iOS and Android can discover Live Audio Rooms to join from places like News Feed and via notifications. You can also sign up to be reminded when a Live Audio Room you're interested in goes live. When listening to a conversation, you'll be notified when friends or followers join, too. You can enable live captions, "raise a hand" to request to join the conversation, and use reactions to participate in real time.
Samassa blogikirjoituksessa Facebook ilmoitti, että yhtiön sovelluksesta voi nyt myös kuunnella podcasteja.
Mikä näistä äänisovelluksista sitten tulee saamaan suurimman markkina-aseman? En osaa vielä sanoa, mutta suurin huone missä olen itse ollut käviämäärällä mitattuna, on ollut Twitter Spacesissä. Ongelma sen kanssa vaan on, että toistaiseksi huoneita pystyy lähinnä löytämään jos joku jota seuraat perustaa huoneen.
Hieman asiaa sivuten, Clubhouse ilmeisesti vuosi vahingossa ennenaikaisesti sovellukseensa tulevan viestintätoiminnon, jota kutsutaan Backchanneliksi.
---
Suosittelut 🕵️
Teslan Andrej Karpathyn esitys CVPR:ssä
Yksi akateemisen maailman tärkeimmistä tekoälykonferensseista, CVPR (eli Conference for Computer Vision and Pattern Recognition), tapahtui viime viikolla ja siellä puhui mm. Teslan tekoälyjohtaja Andrej Karpathy. Tallenteen häneen esityksestään löytää alta.
Esitys keskittyy siihen miten Teslan, pelkästään kameroihin luottava ajoäly, pystyy esimerkiksi määrittelemään etäisyyksiä videokuvasta. Teslan päätös jättää LIDAR-sensorit pois autoistaan on herättänyt huomiota, ja muutama viikko sitten Elon Musk kertoi, että uusimmissa Teslan autoissa ei ole enää tutka-antureitakaan.
Twitter-käyttäjä Varuna Jayasiri antoi myös videolle aikaleimat.
Andrej Karpathy Tesla Autonomous Driving Talk CVPR 2021
youtu.be/a510m7s_SVI
@karpathy
@Tesla
@elonmusk
⏰8:00 Dropping radar - why with details ⏰13:00 Auto labeling - large nets, hind sight, more sensors ⏰15:30 Data collection triggers/shadow mode - 1500PB video 👇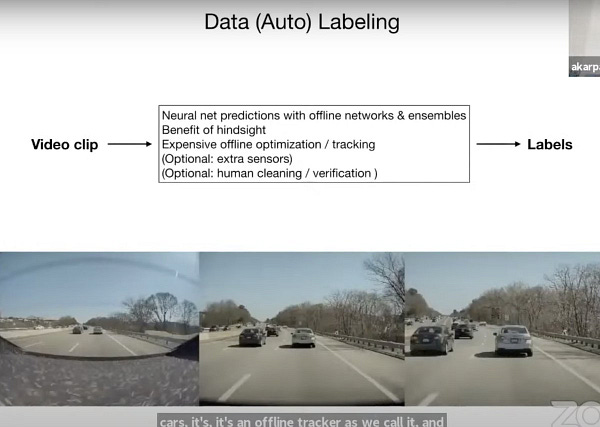 Nopeet 🚀